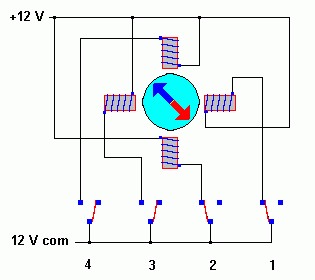 The unipolar drive has a very simple construction.
The basic construction at the right consists of four switches - each switch controls one winding of the stepper motor.
By controlling the switches in the correct order, the motor will step from one position to another.
Stepping Modes
There are three basic operating modes for the switching sequences.
Full Step - One Winding On
Full Step - Two Windings On
Half Step
Stepping Sequence Overview
Seq.
Name
Remark
0001
0010
0100
1000
Full Step - One Winding On
Consumes the least power. Only one phase is energized at a time. Assures positional accuracy regardless of any winding imbalance in the motor.
0011
0110
1100
1001
Full Step - Two Windings On
Hi Torque - This sequence energizes two adjacent phases, which offers an improved torque-speed product and greater holding torque.
0001
0011
0010
0110
0100
1100
1000
1001
Half Step
Half Step - Effectively doubles the stepping resolution of the motor, but the torque is not uniform for each step. (Since we are effectively switching between Wave Drive and Hi-Torque with each step, torque alternates each step.) This sequence reduces motor resonance which can sometimes cause a motor to stall at a particular resonant frequency. Note that this sequence is 8 steps.
Stepper Motor Demo