More Info
N/C lathe Type SNC 25-17L
The N/C lathe combines a 17" precision lathe with a SLO-SYN continuous path contouring control. The result is an N/C lathe that offers many of the benefits of a tracer lathe plus a number of additional advantages, all at a relatively low cost.
Among the features of this machine are:
Fully enclosed precision ball-nut lead screws
Tape selection of spindle speed range
Total of 18 available spindle speeds
9 3/4" cross slide travel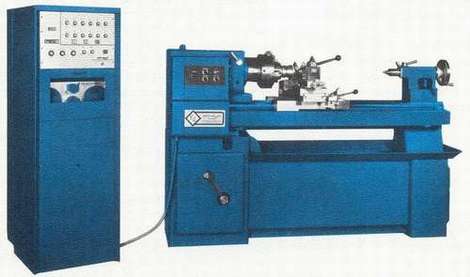 N/C lathe Type SNC 25-17L
Control
The two-axis SLO-SYN Continuous Path Contouring Control has HI Torque drive units and incorporates manual data input, mirror image capabilities and a photoelectric tape reader. Linear and circular interpolation allow complex shapes to be machined with a minimum of programming. Speed in the LO range is infinitely adjustable and the motors can be stopped without losing stored data. The HI speed and an alternate LO speed can be selected from tape when operating at LO speed. Selection of high or low spindle motor speeds can also be made from tape. Other unassigned auxiliary functions are available for actuating coolant flow and similar requirements.
Lathe
The 17" lathe has the swing and clearance needed for large work diameters and is supplied with front and rear tool posts for maximum productivity. A two-speed, 7.5 hp spindle motor with integral 4-speed transmission and a geared low range provides a total of 16 spindle speeds. Durability is assured through the use of flame-hardened beds with all V-ways and flat-ways hardened and hard chrome cross slide dovetails and ways. A one-shot lubrication system is provided for the bed, carriage and cross slide ways and the ball-nut lead screws.
PID: 10058
CLT: 0.015
LMD: 2013-Aug-17